Norway in a Nutshell® Tour
What is Norway in a Nutshell?
The Norway in a Nutshell® is a trademarked experience originally designed as a full day trip between Oslo and Bergen. In essence, the Norway in a Nutshell® tour encompasses the Flåm Railway trip between Myrdal and Flåm, the fjord cruise from Flåm to Gudvangen, and the bus trip from Gudvangen to Voss. So essentially, three different transport legs travelling between Myrdal and Voss (both stops along the Bergen to Oslo train line). It can run in a multitude of directions, as a full day trip or with overnight stopovers. It is not guided - you complete it as an independent tour following signs and announcements.

The classic Norway in a Nutshell® journey from Oslo to Bergen or vice versa can be a hectic day, and at 50 Degrees North we recommend you to extend your visit and spend a couple of nights in these beautiful valleys and fjord villages. The area has plenty of adventure activities and cultural sights on offer; gourmet food walks, lovely cafes, art galleries and memorable restaurants. Several historic hotels built during the prosperous days of European travel are still in service and lovingly maintained. So, we recommend you take your time and enjoy the area as you complete the Norway in a Nutshell® journey at a leisurely pace.
50 Degrees North is a full service tour operator offering tours with accommodation, activities, porter service, 24 hour support service and transport, and a minimum of 4 nights. Our experienced Norwegian Destination Specialists organise tailor-made tours and are unable to help with just train tickets.
Transportation on the Norway in a Nutshell:
The Flåm Railway journey traverses a steeper ascent/descent than any other non-cog, normal-gauge railroad in the world, ascending/descending over 2,838 feet in just 20 kilometres. The trip passes thunderous waterfalls, runs over raging rivers, visits picture perfect villages and skirts green-tufted mountainsides. The route also passes through twenty manually excavated tunnels.
The Fjord cruise is approximately two hours on the UNESCO listed Naeroyfjord. This is a narrow fjord with dramatic, steep walls and often you will see sea mammals and birds following the cruise. The journey includes several stops at small villages along the way, as locals, hikers and tourists unload.
The Bus meets you at the dock and you drive the hair-pin voyage for an hour with commentary. Several buses are involved in this transport and the bus drivers assist with the smooth running of this link.
Please note that all vehicles can no longer drive the Stalheimskleiva - it was deemed unsafe recently. This is one of the steepest roads in Northern Europe, built during 1842-1846. The road has 13 hairpin bends and is very narrow. Nowadays, you can look down at the road as you pass.
The first train departs Oslo early around 6.25am and 8.23am with a further two departures a little later in the morning, depending on the season. These earlier and later departures are a little less crowded.
Which 50 Degrees North 'Norway In A Nutshell®' Suits You?
We offer a wide range of 'Norway in the Nutshell®' tours - with winter and active versions of this program. We also have an upgraded version of the Norway in a Nutshell® tour - called 'Norway in a Nutshell® Plus' with more inclusions, first class tickets and upgraded accommodation. Our 'Beautiful Norway' mini-coach tour also includes the 'Norway in a Nutshell®' vintage railway and bus section.
Short versions of the Norway in the Nutshell®' tours
If you are short of time and want to know more about the classic 'Norway in a Nutshell®', read on to find your perfect 'Nutshell'-rail journey fit. The three tours below are all long day tours, where an overnight stay can be added:
---
Sognefjord in a Nutshell®
Do you want to spend time on Norway's longest fjord in all her glory, experiencing her breathtaking scenery throughout a 5-hour ferry-ride surrounded by mountains and hills, before arriving in Bergen - the beautiful historic town on Norway's west-coast? Then 'Sognefjord in a Nutshell®' is the tour for you. The tour starts in either in Norway's capital Oslo or in Bergen with a scenic train-ride towards Flåm, followed by an afternoon ferry-ride on, with it's 200 kilometers, the 2nd longest fjord in the world: the Sognefjord. You'll arrive in Bergen by the evening. We highly recommend doing this trip in summer where the light of the midnight-sun allows you to enjoy the views until you disembark in Bergen at 9 PM.
---
Hardangerfjord in a Nutshell®
Do the thoughts of Norwegian orchards, waterfalls and majestic mountains get you excited? Want to learn more about Norwegian nature, climate and ecology while you're taking in the sights? Then the 'Hardangerfjord in a Nutshell' is for you. Travel by rail from Bergen or Oslo to Voss, followed by bus to Ulvik, then a ferry and bus-ride towards Bergen. This journey covers a lot of interesting ground: With its fertile soil and impressive vistas, experience the fruit-trees in the charming little town of Ulvik followed by a boat-ride to Norway's biggest waterfall, the Voringfossen. Enjoy an educational visit to the interactive Hardangervidda Nature Centre. You'll finish the trip with a boat-trip to Nordheimsund, a gorgeous little town on the edge of the fjord, before catching the bus back to Bergen.
---
Norway in a Nutshell®
Do you believe that a legendary classic is the only way to truly explore Norway's raw yet idyllic beauty? Do you want to feel the excitement of climbing hairpin-bends by bus and sheer awe on the narrow UNESCO-protected Naeroyfjord? Then the classic 'Norway in a Nutshell®' is the perfect journey for you. There's a reason this is one of the most popular tourist-attractions in Norway. Famous for incredible mountain- and fjord-views, it's no wonder Norway in a Nutshell®, is considered one of the most spectacular scenic rail-journeys in Europe. Enjoy the striking Bergen- and Flåm-railways, a fjord-cruise on the famous Aurlandsfjord and Naeroyfjord and a beautiful bus ride to Voss. Often considered the most magnificent and romantic way to travel between Oslo and Bergen, this is a railway-journey not to be missed.
Norway in a Nutshell® FIRST CLASS
If you are looking for an upgraded version of the tour with first class tickets and premium boutique accommodation, see our 'Norway in a Nutshell® Plus'. Accommodation can either be a suite at the Fretheim Hotel or as noted in this tour, staying at a boutique riverside lodge several kilometres away from Flåm. We can custom-make this tour for you.
Active versions of the Norway in the Nutshell®' tours
50 Degrees North has three active versions of the 'Norway in a Nutshell®'. We have a 3-day 'Norway in a Nutshell® - Active'. This takes the less trodden path with a cycling trip along the famous Rallarvegen from Finse to Flåm. The construction route known as the 'Rallarvegen' is a 100-year-old man-built transport road designed for the conveyance of men and materials during the building phase of the most mountainous sector of the Oslo - Bergen Railway Line.
If you have longer, you could do the 6-day 'Norway in a Nutshell® - Active Plus' which includes an extended stay in a riverside lodge near Flåm, allowing you to take your time and enjoy the scenery by hiking, kayaking or biking. Full board during your stay is also included.
We have a slightly different version called 'Norwegian Fjords Bike and Hike' - a 10-day premium version which includes a Fjord-safari in Aurlandsfjord with goat farm visit, Stegastein Viewpoint excursion in Flåm, 'Sognefjord in a Nutshell®' from Flåm via Balestrand to Bergen and a Half-day excursion on Fjærlandsfjord to Bøyabreen glacier and Museum.
Looking to get off the beaten track whilst seeing the highlights of Norway? Our 'Beautiful Norway' tour which is an independent visit to the mountains, fjords and valleys of Norway. You stay at boutique hotels and tour around in our private 50DN minbus. This tour includes a ride on the steep Flåm Railway full of hairpin turns and catches a ferry to Bergen, the capital of the fjords.
The trip runs weekly from May to September with fixed departures from Oslo every Saturday. The trip can also run in reverse starting from Bergen every Monday.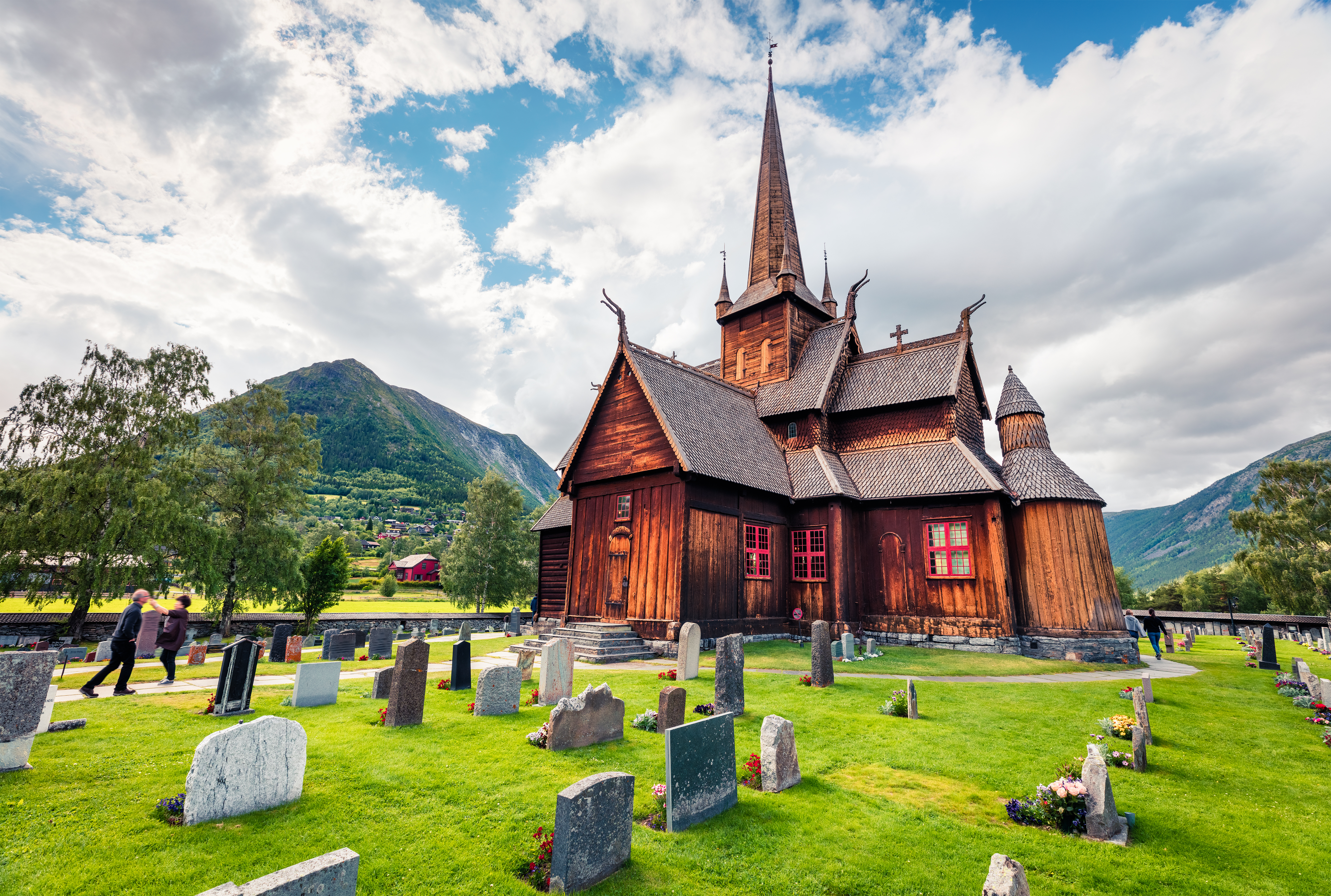 Remember that if you do not want to lug your bags/suitcase on and off trains, boats and buses, ask us for our porter service between Oslo and Bergen. We automatically include this in most of our custom-made tours.
This route can be crowded during the peak season and holidays. We do our utmost to guide you off the beaten track and give you are more authentic experience in the Norwegian Fjord region. Please see our complete guide to our Norwegian Fjord tours.
If you want to travel on a first class ticket (called PLUSS), the seats are slightly wider but they don't swivel. This means you might be facing the wrong direction.
Travel times for the complete journey:
Train Bergen-Myrdal: approx. 2 hours
Flåm Railway: approx. 1 hour
Fjord Cruise Flåm-Gudvangen: approx. 2 hours
Bus Gudvangen-Voss: approx. 1 hour
Train Voss-Bergen: approx. 1 hour
Train Oslo-Myrdal: approx. 5 hours
Train Voss-Oslo: approx. 5.5 hours
Train Bergen-Oslo: approx. 6.5 hours
There is no guide on the tour. You travel on your own. The connections are all within close proximity of each other for easy transfer and the stops are always announced over the speakers.
Travelling in Winter? Your tour can be modified depending on when in winter that you are travelling. The sun doesn't come into Flåm in the thick of winter so you visit Flåm during the middle of the day but travel back out to Voss for the evening.
We keep updated on local conditions to benefit your holiday. This may include; a) knowledge on which areas of town have building works taking place which may affect your good nights sleep; b) knowledge of which cruise ship may be docking in small fjord villages when you happen to be there seeking peace and quiet; c) alternative transport options taking you away from the crowds.
Want more on your Norway tour?
Make the most of your Nutshell railway-journey by adding a night or two along the way. We can help you with anything from booking accommodation in gorgeous historic hotels or family-friendly apartments, to organising activities like hiking, kayaking or fjord safaris. The contrast between busy cities and the quieter pace in the countryside adds variety to your Norwegian holiday.
Asko Meriläinen, one of our Destination Specialists, worked as a Chef in one of the popular Flåm hotels along the route of the 'Norway in a Nutshell® journey. Fabulous seafood platters and 'Smörgåsbord' were his specialty, and he has fond memories of his time exploring Flåm. Sampling all the fjord activities on days off, kayaking and hiking was Asko's favourite. Traversing on foot along the river from Flåm into the valley, you will be surprised to find incredible waterfalls and stunning scenery. There is a lot of publicity around the Norwegian fjords, but Norway's secret waterfalls are also some of the world's most impressive.
Add some great activities such as the Stegastein viewpoint. Built in 2006, this smooth wooden shelf jutting out over the fjord can be easily reached from Flåm, and is offered as a morning walking tour. The Stegastein viewpoint is one of a series of breathtaking architectural projects built in scenic areas across Norway; from the rugged Trollstigen plateau; to the windswept Lofoten Islands.
At 50 Degrees North, we are passionate about creating exceptional experiences for our clients, and will ensure every little detail of your trip is looked after.
Image credits: Gjertrud Coutinho, © Terje Rakke / Nordic Life AS / www.fjordnorway.com and Paul Edmundson. Hilda Weges Photography and Shutterstock.