Scandinavian Tours - Connecting the capital cities
Scandinavia and Finland can easily be explored on an independent tailor-made tour or an escorted tour and here at 50 Degrees North, we offer both options.
Tailor-made Scandinavian Tours between the capitals
Our independent journeys have been created for those who like to move at their own pace. Our self-guided tours give you the best of the Nordic capitals and the dramatic fjord & mountains of Norway and Scandinavia. Travel by rail and local ferries with ample time to digest the scenery and the modern Scandinavian capital cities.
One tour which might suit you is our bestseller, Scandinavian by Rail and Ferry. This classic self-guided tour uses a wide range of transport (fast train, flights and overnight ferries), split between the most cost effective and time effective way to travel between the capitals.
Highlights of this tour include a day trip to Tallinn, overnight voyage to Helsinki through the magnificent Baltic Sea archipelago, Norway in a nutshell and great cities such as Stockholm, Copenhagen and Bergen. Enjoy attractions such as the ABBA museum and the Blue Planet Aquarium in Copenhagen. This tour can be easily shortened or modified to add more countryside stays.
Escorted Scandinavian Tours between the capitals - new for 2023
'Scandinavian Capitals and Fjords' escorted tour is new for 2023 and tours through the Norwegian fjords from Bergen to Oslo, visiting the stunning Geiranger fjord and enjoy the mountain landscape of Sognefjellet which makes its way up to the summit at 1,434 metres. Our premium 50 Degrees North mini-coach will take you along the stretch of breathtaking mountain roads between Lærdal and Aurland before reaching the Aurlandsfjord, one of the most picturesque fjords in the world, where you will stay fjordside!
Moving along, wander through the Vigeland Sculpture Park and explore the hidden gems of Norway's capital, Oslo. Then it is overnight ferry to Copenhagen with private city tours before travelling to Stockholm on an express train. This tour finishes in Helsinki with a day tour in Tallinn, Estonia. Enjoy a hassle-free travel experience with our Scandinavian tour escorts, staying in quality boutique or premium hotels carefully selected by our Scandinavia travel experts.
With a maximum of 12 travellers, there are five departures in 2023 throughout the summer. FIND OUT MORE HERE: Scandinavian Capitals and Fjords
Image credit: Sverre Hjornvik, Visit Norway
Mini-cruises between Capitals
One of easiest ways to travel between the Scandinavian capitals is on overnight mini-cruises. Between Stockholm - Helsinki and Copenhagen – Oslo, many of our guests travel on a Silja Line ferry or similar, staying in 2-berth outside cabins with private facilities.
The sailing between Stockholm and Helsinki crosses the Baltic Sea from Sweden to Finland, a beautiful journey sailing through Stockholm's Archipelago with numerous small islands. The Oslo to Copenhagen ferry journey crosses the Öresund sound between Denmark and Sweden, and offers a scenic entry to the Oslo fjord with its picturesque islands and many sailing boats cruising by.
Added bonus during these mini-cruises:
Plenty of time to shop - these ferries have large shopping centres on board to browse for souvenirs.
Entertainment shows with several bars & casino and outdoor dining options - depending on the ferry.
Buffet dinners on board are high quality and use products obtained directly from small producers in the Turku, Åland and Stockholm archipelagos.
See below images of the cabins onboard these ferries - quite luxurious indeed!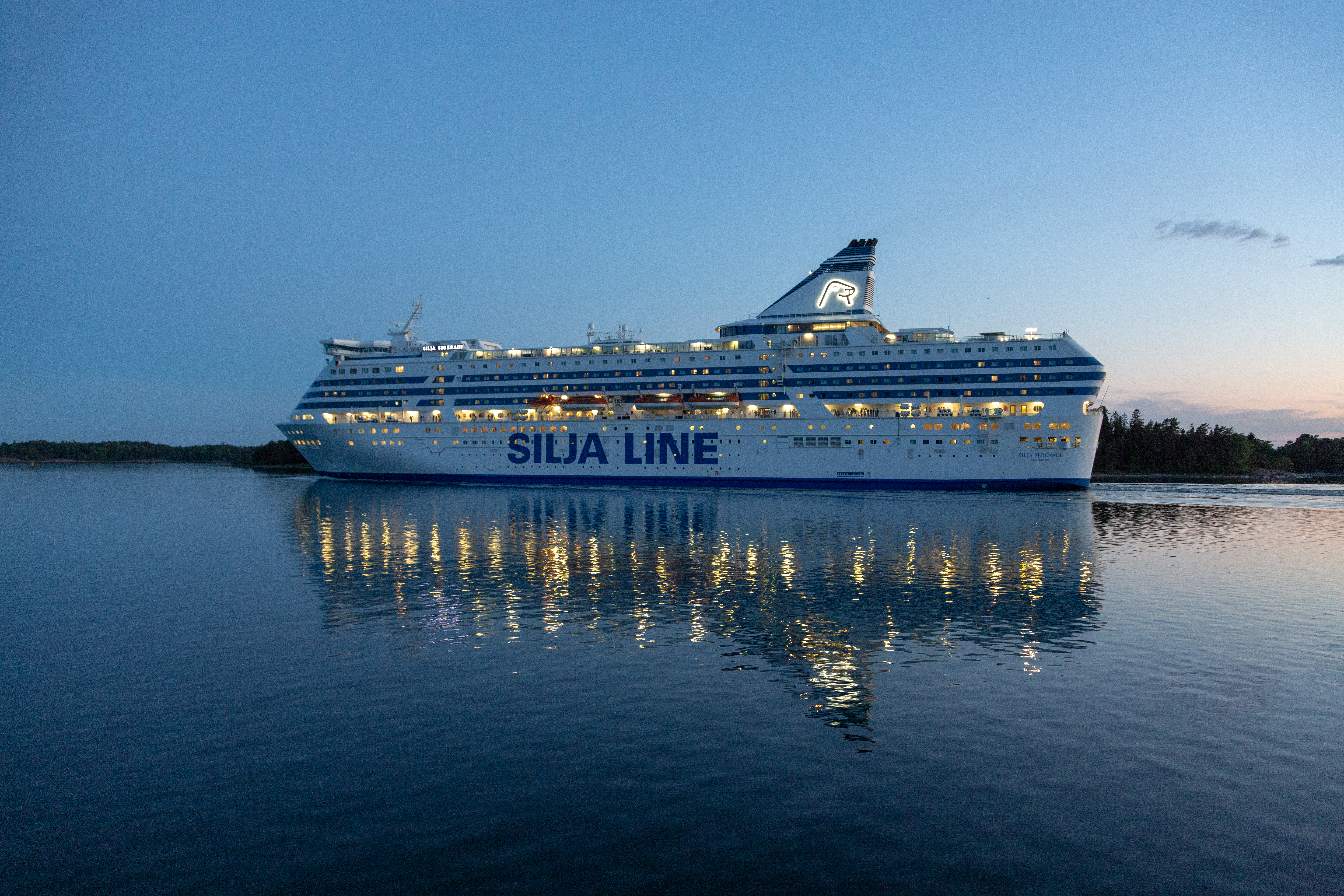 Image: Silja Serenade
50 Degrees North Meal Inclusions
Included meals – savvy shoppers for Scandinavian tours will know that the prices for meals in the Nordic region can be an unexpected weight on your hip pocket. On our small group tours, we include as many meals as we can - handpicking from our local options and our beginning and final dinners are often somewhere special.
Our independent tours include half board (2 or 3 courses) most evenings as an affordable and relaxing option. Breakfast is nearly 99% always included in our tailor made itineraries and you will be amazed at the quality of the spread.
Great Central Hotels
Hotel stays of the highest quality on our Scandinavian tours are central to your enjoyment and satisfaction. The hotels used vary between places such as; the Clarion Hotel Sign in the heart of Stockholm city with a rooftop heated outdoor pool providing fantastic views; to more intimate hotels such as Copenhagen's Admiral Hotel, or Bergen's Clarion Admiral Hotel.
Copenhagen's Admiral Hotel is a historic hotel located on the Copenhagen harbour. Each room is unique with a rustic warm glow and custom designed furniture.
Our independent tours of Scandinavia use our Director's Choice hotels - we visit these regions regularly and have a selection of hotels that we think compliment having a stress-free holiday. To see things to do in Scandinavia, you can visit our partner's website, Scandinavian Attractions.
Travelling Solo in Scandinavia
We can help find you a tour which suits travelling solo.
These tours have extra inclusions that have been purposely built into the itinerary to encourage group members to get to know each other; such as welcome and farewell drinks.
Image: Tasmus Flindt Pedersen
Image credits and information: Sight Seeing - Little Mermaid (credit: Visit Denmark), Vigeland Sculpture Park in Oslo, credit: Visit Norway, C.H. Hotel Borg, Hotel Rival and © Marko Stampehl.